What is TransOral Robotic Surgery (TORS)?
TransOral Robotic Surgery or "TORS" is a new and less invasive alternative to open surgery for some types of head and neck conditions. TORS uses a specialised medical robot between a specialised robotic trained surgeon and the patient. Using TORS gives Dr Julia Crawford the option of using a range of fine, specialised operating tools together with a better view of smaller, less accessible structures as well as more light and magnification when performing surgery.
What are the benefits of TransOral Robotic Surgery?
The benefits of TORS for the patient are minimally invasive surgery with a decrease in longer-term side effects that can result from alternative treatment options. TransOral Robotic Surgery can also mean a potentially shorter hospital stay with a faster return to a regular diet and lifestyle after surgery.
The rise in the numbers of cancers occurring in the tonsil and back of the tongue is directly related to the Human Papilloma Virus (HPV). This occurs in a much younger group of patients who do not have the traditional risk factors for throat cancer which are heavy cigarette and alcohol use. Patients with cancers in this region had typically been treated with radiotherapy and, in some cases, adjuvant chemotherapy. The introduction of TORS as a possible treatment for these patients means that treatment time for the cancer is reduced and that longer term side-effects of treatment may also be improved.
Experience with TransOral Robotic Surgery
Dr Crawford is one of only a few Fellowship-trained Robotic Head and Neck Surgeons in Australia. To become a robotic surgeon, some doctors do a three to five day training course overseas and then have their first three cases supervised by a more experienced robotic surgeon. Dr Crawford's training in robotics involved two years of working in a major robotic training centre in the United States of America. During this time she worked as a Clinical Fellow in Advanced Head and Neck Surgery, Robotic and Reconstructive Surgery at Celebration Health, Orlando, Florida, under Prof J Scott Magnuson, one of the pioneers of Head and Neck Robotic Surgery.
Dr Crawford has been using TORS as part of her practice in Australia for six years. Her passion for TransOral Robotic Surgery means she is active in the research and presentation of this technique within the medical community in Australia and internationally. She regularly delivers presentations to other head and neck surgeons and General Practitioners (GP's) about the uses and benefits of TORS as an excellent option for patients with early oropharyngeal (tonsil and back of the tongue) cancers, particularly those related to the Human Papilloma Virus (HPV). Committed to improving techniques and patient outcomes, Dr Crawford is also actively involved in training other surgeons in this technique both nationally and internationally.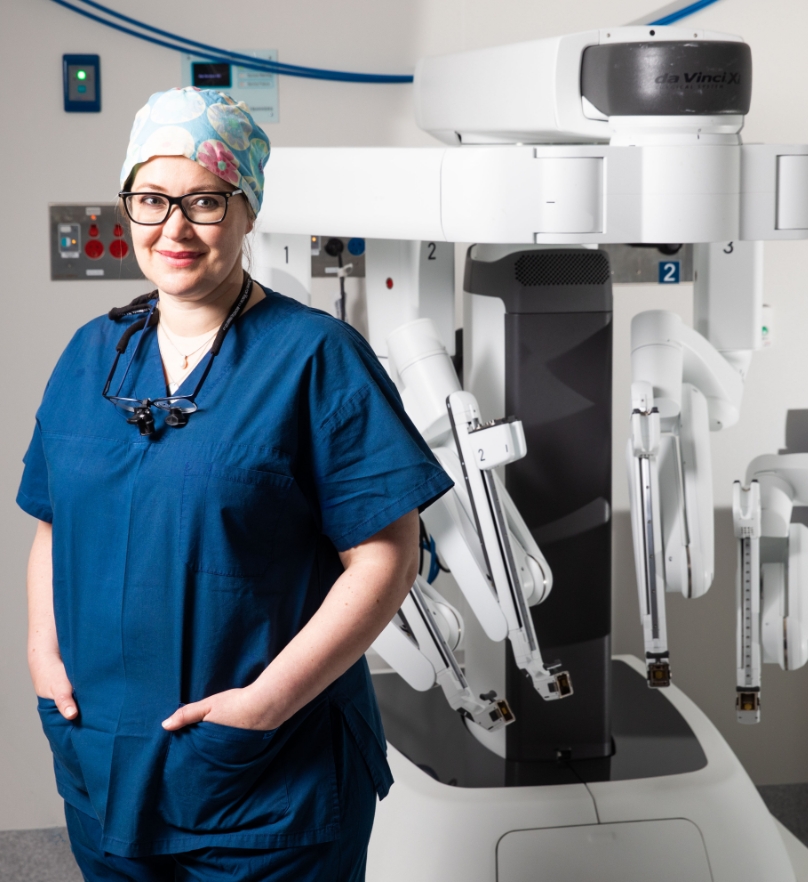 When is TransOral Robotic surgery the preferred treatment?
TransOral Robotic Surgery or TORS could be part of your treatment plan if you have:
If you have been diagnosed with a tonsil or back of the tongue cancer, or if you have OSA that is a result of enlarged tonsils and have been resistant to non-invasive treatments such as CPAP, please ask your GP for a referral and call our team today to arrange for a consultation with Dr Crawford.